Turn your vision into reality
There is never a convenient time nor a better time to initiate a strategic planning process. Contact us to discuss how our process can deliver an experience that is both memorable and life (corporate and personal) changing.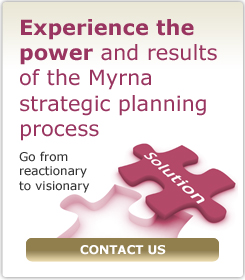 Not sure strategic planning is the right solution for you? Download our free report to help you assess your readiness and start you on the path to creating a strategic plan for your company:
Checklists to help you select the process and facilitator
Pointers on the CEO's role in the strategic planning process
Tips on how to surface your company's strategic issues
Pointers on how to establish a vision for the future, establish team consensus on strategic goals, and develop an initial action plan for each goal
Pointers on how to implement action plans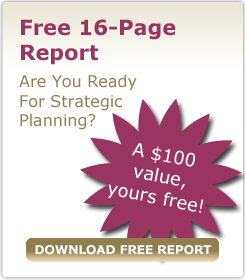 Myrna Associates
Inclusive packages to facilitate your strategic planning meetings, document the plan, and sustain implementation
A professional facilitator experienced in strategic planning and our process
Quality documentation delivered within a week of the planning meetings
Follow-up support services including review meetings and middle management presentations of the finished plan
Minimal time impact - for example, one hour prep for two-day meeting
Affordable fees as low as $8,500 for our core Silver Service
Click here to review our services »
A source of proven, skilled strategic planning facilitators
Click here to access our facilitator's bios »
A pragmatic, proven, executive team strategic planning process that you can use to initiate immediate change
Turn vision into reality
Build executive teamwork
Sustain on-going, measurable results
A conceptual framework which unifies strategic planning concepts into a simple and seamless flow between vision and tactics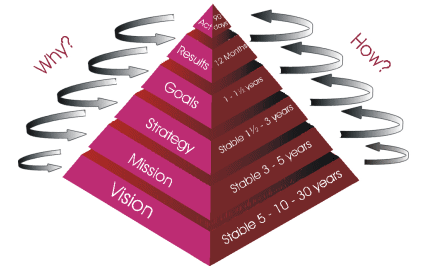 Click here to see the Progress Pyramid »
A rich source of strategic planning information and tools
What strategic planning can do for you
Information and insights on planning and implementation - published article reprints, planning myths, blogs
Solutions to typical issues that come out of planning meetings in the Run With The Big Dogs™ newsletters and blogs
Tools to facilitate your own strategic planning: meeting planning tools, "how to" books, meeting aids, etc.
A means to take action on your desire to initiate strategic planning
Explore this site and contact us or call us at (800) 207-8192 to arrange for a complimentary consultation to determine if our program is right for you and you are right for the program
Purchase a how-to strategic planning book
Explore the Run with the Big Dogs™ newsletters, planning article reprints, and blogs
Remember, while there is never a "convenient time" to do planning, your best decision is to take action today!
All products and services are backed with a 100% money-back guarantee