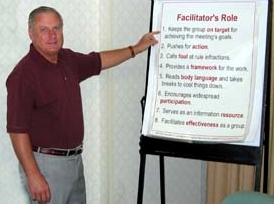 Contact George Fowler:
"George Fowler, and the Myrna Strategic Planning Process, was the piece of the business that had eluded Exacto in the last several years. Our team is a fantastic one, from a creative level, but we lack the discipline piece for accountable follow-through. George has helped us, in two short days, to mature professionally, which will begin to guide us to solid growth. Thank you!"
Meet George Fowler
George Fowler's Navy years
George Fowler has been facilitating problem-solving over his entire career. He joined the Navy after graduating from Houston's Rice University with a BA and BS in Architecture. His Seabee battalion built airfields, roads, bridges and facilities across Asia. In Thailand he honed his political skills working closely with the US Ambassador and his staff.
Recognized for his management skills, he was asked to provide contract administration and inspection services for construction contracts and then financial management of all the financial aspects of military construction in Taiwan, Australia and the Philippines. He solidified his field-obtained financial acumen with an MS in Financial Management from the US Naval Postgraduate School. He honed his school learning and field knowledge in the Republic of South Vietnam, where he coordinated the financial resources and requirements of the military with the capabilities of civilian contractors.
For a change of pace, the Navy sent George into a troubled facility with the hope of a turnaround. The facility was often over-budget, always took too long and delivered marginal quality. In only three years, George cut the staff in half while delivering the same amount of work, albeit now on time, within budget, and with guaranteed quality.
George was moved to the Pentagon, where his financial management skills were used intensely. He taught the Department of Defense Planning, Programming and Budgeting System to military and civilian personnel. He was the appropriation level analyst for the Department of the Navy, providing analytical support for the Secretary of the Navy and the Chief of Naval Operations for all appropriations. He was also the Navy budget analyst for the worldwide Base Operations Decision Unit. By the end of his Navy career, he was the Navy Representative, leading the initial phases of the worldwide automation of the Navy Budget.
---
George's commercial years
Captain Fowler entered the civilian world as a Washington, DC contractor. After mastering that arcane world he was recruited to be President and COO of a NASDAQ-listed consulting firm in deep financial trouble. Utilizing his leadership skills, financial management experience, and turnaround abilities, he kept the company from bankruptcy. When he retired, the firm was stable and profitable.
---
Becoming a Myrna Associates facilitator
People like George never really retire. He has a strong desire to "give back" and help others succeed. Having used Myrna Associates' strategic planning services as one of his principal turnaround tools, it was a natural transition for him to become a Myrna facilitator and continue to help businesses and organizations solvie problems.
---
George's philosophy and family
George believes that strategic and tactical planning is the fun part of business and the execution phase is the tough part. He also believes in doing things right the first time, not asking a question unless you are prepared to hear the answer, and that everyone should be in business to have fun and make money. He and his wife, Bettye, are "retired" and reside in Texas when they aren't traveling the world or facilitating planning meetings. His daughter is a DVM in Georgia, and Bettye has two sons who are business owners/journeymen in North Carolina.