Download our free report to help you assess your readiness and start you on the path to creating a strategic plan for your company:
Checklists to help you select the process and facilitator
Pointers on the CEO's role in the strategic planning process
Tips on how to surface your company's strategic issues
Pointers on how to establish a vision for the future, establish team consensus on strategic goals, and develop an initial action plan for each goal
Pointers on how to implement action plans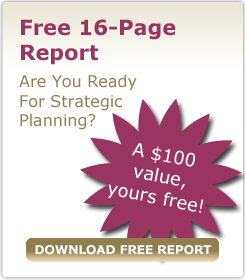 Free Tools
Receive a free 16-page report, "Are you ready for strategic planning?" Yours free! Download it today.

Are you ready for strategic planning?
Table of Contents:
Introduction: What is strategic planning?
Step 1 – Decide whether you are ready to plan
Step 2 – Decide on the process
Step 3 – Decide on the facilitator
Step 4 – Decide to do it now!
Ten Secrets to Strategic Planning Success
#1. Play your role as CEO and walk the talk
#2. Use a facilitator
#3. Select a quality executive team
#4. Pre-plan the planning meeting
#5. Use good meeting rules and tools
#6. Surface the company's strategic issues
#7. Establish a vision for the future
#8. Establish team consensus on the strategic goals
#9. Develop initial goal action plans during the meeting
#10. Implement! Implement! Implement!
How to document and implement action plans
Strategic Planning Definitions