Books
The Chemistry of Strategy
Strategic Planning for the Not-Yet-Fortune 500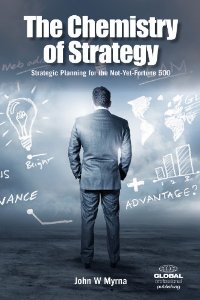 195 pages
© 2014 John W. Myrna,
published by Global Professional Publishing Ltd
This book offers readers something they can't find in today's most popular business books: a practical, tested perspective and strategic planning process that works for the legions of companies that don't have the resources of an Apple, GE, or P&G. Readers will gain a deep understanding of what strategy and strategic planning is; why it's critical to their organization and their own success; and how to create, implement and sustain a strategy that literally turns vision into reality.

Executive teams are searching for the magic elixir of success. The appeal of such alchemical magic is obvious. If a company's managers do just this one simple thing, or follow this simple, easy plan, they too can enjoy profit margins and stock prices just like the "it" company of the moment.

The process of successfully growing an organization is like mixing chemicals together to create a reaction. Ask the typical executive to name the most valuable tool in the process of creating a chemical reaction, and they'll offer such answers as the quantity of certain chemicals, the quality of the lab facility, the combination of two or more elements and so on. That's because we tend to be so rooted in tactical thinking that we miss the larger equation.

The reality is that the most important tool in creating the desired chemical reaction – or growing a company – is the formula that describes its "big picture" results.

The primary formula for strategy is simple enough:

(What + Why + How) ⇒ The Future
What do we want the company to look like in the future?
Why do we want to look like that?
How do we get there?
(What + Why + How) = Strategy

This strategic planning approach derives from the author's own alchemist-like professional search to find the magic formula for transforming the value of companies.
Click here to purchase from Amazon.com »
---
Business Expert Guide to Small Business Success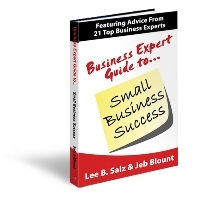 278 pages, 21 business experts share their small business insights and expertise.
© 2010 Lee B. Salz - Two chapters by John W. Myrna,
published by Business Expert Publishing
The life of the small business owner can be lonely. You work around the clock just to survive - it often feels like you need to come up with all of the answers yourself. Until now! Today's business thought leaders have created the Business Expert Guide to Small Business Success, providing you with actionable information you can implement right now. From increasing revenue, to improving quality, to managing costs, this book is the true handbook for the small business owner.
Strategic plan design and implementation
(authored by John Myrna)

Cash flow management
Pricing strategies for profitability
Leadership and strategic decision-making
Sales hiring and compensation concepts
Business development, networking and lead generation techniques
Sales strategies and tactics
Employee engagement and development
Self and employee motivation
Legal and compliance best practices
And many more...
Click here to purchase from Amazon.com »
---
Where the Hell Are We?

112 pages, includes worksheets, 8" x 11" workbook size
© 2005 John W. Myrna, published by QuickStudy Press
A detailed TQP™ guide, including sample plan, documenting the Total Quality Planning™ process. This pragmatic how-to book contains detailed instructions on executing John's breakthrough Strategic Planning process.
Everything you need from soup to nuts.
Table of Contents
Introduction to the Fourth Edition
Prologue
Introduction
Preparing for the TQP Meeting
Starting Day One of the TQP Meeting
Determining Where We Are
Vision, Mission, and Strategy
Starting Day Two of the TQP Meeting
Goal-Setting
Action Plans

Communications
Wrapping Up the Meeting
Ongoing Follow-up
Subsequent Annual Meetings
Epilogue
Appendix A Pre-Meeting Material
Appendix B Meeting Input Form and Planning Guide
Appedix C Meeting Posters and Handouts
Appendix D Sample Plan
About the Author
Testimonials
Purchase a copy of this book to learn exactly how you can apply strategic planning to your needs. Whether your goal is to learn enough so you won't be snowed by a professional facilitator or to enhance your own facilitation skills, you'll find this unique book pragmatic and valuable.
Click here to purchase from Amazon.com »
---
An End to Meeting Madness

112 pages, How to lead focused, energized, interactive meetings that build teamwork, reduce stress, and deliver breakthrough results
© 2009 Maria C. Birkhead with John W. Myrna published by QuickStudy Press
Do you ever feel like Alice at the mad tea party? Have you been in meetings where people, like the Mad Hatter, are downright rude? Is the talk a lot of nonsense with no connection to reality? Did you ever feel like you couldn't wait to get out there? If your meetings are less than perfect, you're not alone. There are 11 million meetings attended by professionals in the U.S. every day, and research indicates that at least 50% of the time in those meetings is wasted.
This book was written for anyone who has to facilitate a meeting. Facilitating meetings is one of the key skills exceptionally successful people have. Meetings can be a powerful tool for problem-solving, setting direction, establishing commitment, and producing results. A well-facilitated meeting will enhance teamwork, improve results, and reduce everyone's stress. Poorly facilitated meetings not only waste everyone's time, they often damage teamwork and breed cynicism.
Whether you facilitate often, occasionally, or just want to see your meetings become more successful, this is the book for you.
Click here to purchase from Amazon.com »
---
100 Quick Tips for Business Success

107 pages, one strategy per page, unique 3¸" x 4¹" pocket size
© 1994 John W. Myrna published by QuickStudy Press
Perhaps it is the engineer in John but he has forever been asking himself how and why things work. Over the years he has built up an informal set of strategies - rules of thumb - general insights on why things work and how to be successful.
These pragmatic tips come from struggling with the day-to-day chaos of business operations. John has developed tips to help grab hold in a crisis - tips he's used in corporate turnarounds. Tips for hiring and managing employees and lessons from mismanaging employees. Tips on dealing with the two great, unsolvable issues of every organization - communication and focus.
When John wrote this book in 1994 he couldn't escape the feeling that somehow it had captured part of his soul.
Purchase copies for yourself and other CEOs, owners and entrepreneurs who appreciate the value of one good idea - let alone 100! Learn how the 80/20 rule works in your business, What only 3 jobs the CEO has. Why you need fresh frogs.
Click here to order from Amazon.com »
---
Winning The Rat Workplace Race

130 pages, one strategy per page, unique 3¸" x 4¹" pocket size
©1998 J. Adam Myrna and John W. Myrna published by QuickStudy Press
Over the years a common theme in planning meetings has been the problem with today's employees. Why don't they show greater commitment, work harder, be more appreciative, take risks, invest in their own careers, etcetera.
Everyone just assumes that employees know how to succeed and are choosing other behavior. Why should we make this assumption? If an employee never had a mentor, got bad advice, started their career with an awful company, or on the wrong foot they may not have a clue as to what is expected and how to succeed.
At age 21 Adam Myrna, John and Mary's son, started a store front business that required he hire people who, frankly, demonstrated many of the traits he demonstrated when working for others. After a year of this he decided the best way to learn how to motivate employees was to go work for someone else and be the employee he wished he could have hired.
This book grew out of Adam's strategies for being a successful employee. It blends Adam's experience with his dad's insights.
Purchase copies for yourself, your children, or your employees and: Learn how to read you boss's mind. Coach yourself to better pay. Avoid work foul-ups. Create your future with high-payoff behavior. Get promoted first. Survive the downsizing. Be the employee you'll want when you're the boss.