"You transform a conceptual exercise (strategic planning) into a tactical reality.

Myrna Associates' strategic planning process has directly contributed to our five-fold increase in EBITDA."
Robert Posten, Former Managing Director, tns Landis Strategy & Innovation
About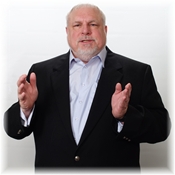 Our vision is to motivate every organization to experience the power and the results of the Myrna strategic planning process.
On July 4, 1991, John and his life-long partner --and wife-- Mary, formed Myrna Associates, dedicated to improving the competitiveness of America's small businesses. John's experiences have given him a passionate belief in the power of strategic planning to generate immediate bottom-line results, especially during a growth spurt, turnaround or other transitions.
He distilled what he learned from leading organizations over 20 years into a formal program tailored for the small to medium sized organization. John has poured over two decades of continuous improvement into creating a process that accomplishes more in a two-day team-planning meeting than in the two weeks required by traditional "big company" methods. Even organizations in crisis can find two days to invest in strategic planning for success.