Who doesn't hate meetings? Every executive knows that meetings are a waste of time. Hard-nosed, pragmatic leaders routinely brag about how they've eliminated all meetings, and then move on to the next biggest challenge, only to find that nothing gets done. Worse yet, the wrong things get done. What gets done is incomplete. And everything takes too damn long.
Why does this happen? Because there hasn't been effective communication among all the stakeholders. Defining expectations for quality, quantity, timeliness, and cost requires interacting with each stakeholder. It also requires the stakeholders to make tradeoffs among those four expectations. The trick is that you can't do this one-on-one, you have to do it with a meeting. Hence the expression, "a meeting of the minds."
"To Go Fast, Go Alone - To Go Far, Go Together"
an old African proverb
Is this simply a maddening paradox then? Meetings are a waste of time and slow you down. Yet, you can't get anything done right without a meeting. To get things done and accelerate progress, follow this simple, four-step process:
Agreement, and establishing Accountability are most effectively done via a meeting
.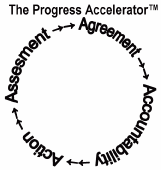 Then the accountable parties are free to aggressively take Action for implementation.
After the Action, you need another meeting for Assessment – and the process continues with yet another cycle to reestablish agreement.
Stop demonizing meetings and learn how to utilize them as an effective tool. Facilitating meetings is one of the key skills exceptionally successful people have. Meetings can be a powerful tool for problem-solving, setting direction, establishing commitment, and producing results. A well-facilitated meeting will enhance teamwork, improve results, and reduce everyone's stress. Poorly facilitated meetings not only waste everyone's time, they often damage teamwork and breed cynicism.
During the past 19 years of facilitating strategic planning meetings, we have developed, refined, and validated meeting techniques that really work.
The top four are:
Clarify roles for the "top dog," participants, and facilitator
Establish meeting rules to insure everyone fully participants
Allocate appropriate meeting length -- open-ended or fixed
Always use a facilitator for high-stakes meetings